| | |
| --- | --- |
| Menu Button | RhinoResurf > Surface flatten |
| Command Name | RsrSurfaceFlatten |
Command description:
This command let user unfold a 3D surface to be 2D mesh.
Tutorial to unfold 3D surface:

Step 1 : Start Rhino.

Step 2: Select Importů from the File menu. The import file dialog box is displayed. Browse for the file surface1.igs (typically located in C:\Program Files\Rhinoceros 4.0\Plug-ins\MeshFlatten\surface1.igsl) and click Open from the Open dialog box .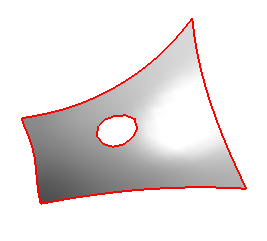 Step 3: Click Surface Flatten from the MeshFlatten menu or type RsSurfaceFlatten at the Rhino command prompt. Select the mesh, click right mouse button. A dialog for surface triangulation is shown.

Step 4: Click right mouse button, the surface is unfolded to be 2D boundary line.