| | |
| --- | --- |
| Menu Button | Resurf > Star face from mesh |
| Command Name | RsMesh2StarFace |
Command description:
This command lets user convert a star-like mesh to multiple NURBS surfaces, the surfaces have exact G1 continuity transition.
To create star face from a mesh:

1. Click Star face from mesh from the Resurf menu or type RsMesh2StarFace at the Rhino command prompt.

2. Click left-mouse button to select a mesh, then click right-mouse button.

3. The NURBS surfaces will be created automatically.
The following picture shows a mesh which has 6 sharp corner points: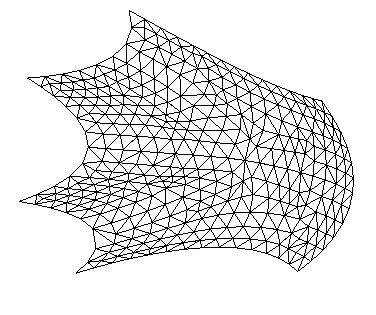 The following picture shows the NURBS surfaces created from the star mesh:

The surfaces have exact G1 continuity transition: