| | |
| --- | --- |
| Menu Button | RhinoResurf > Purchase/Register RhinoResurf |
| Command Name | RsRegister |
Purchase RhinoResurf for Rhino
There are many methods for you to order RhinoResurf:
1. Conact your local reseller to order RhinoResurf. Please visit this webpage to look for your local RhinoResurf reseller: http://www.resurf3d.com/reseller.htm
2. If there is still no RhinoResurf reseller in your country, you can buy our products online. Usel the command RsPurchaseRhinoResurf , you will see the order page in the command help frame on the condition that your computer is able to get on the Internet.
Register RhinoResurf


After you installed RhinoResurf and loaded it into Rhino 6, you run command _RsRegister and will see a reminder dialog: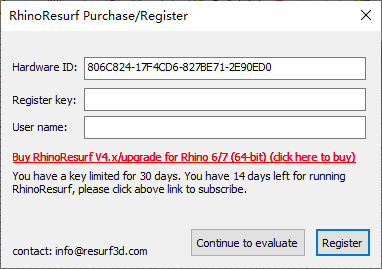 For RhinoResurf tester, cilck button 'Continue to evaluate' to continue.
For user who has purchased RhinoResurf, please send your 'Hardware ID' and 'Name' to email address info@resurf3d.com , you will receive a key in about one business day.
After you have registered RhinoResurf, the reminder dialog will not show any more.