Question: When I load RhinoResurf plug in into Rhino, the program told me 'unable to load RhinoResurf: initialization failed' as shown in the following picture. Why and how can I do?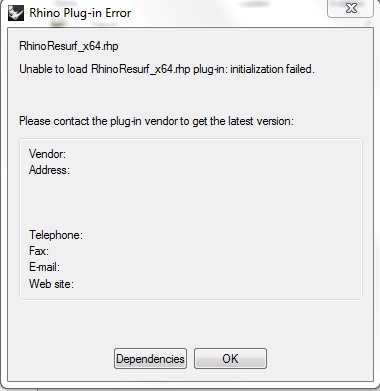 Answer: Both Rhino and RhinoResurf have two versions: 32-bit and 64-bit, if you load wrong version into Rhino, this problem will happen. Please do the following steps:
step 1, check your Rhino version, is it 32-bit or 64-bit?
Step 2, If your Rhino is 32-bit, install this RhinoResurf 32-bit: http://www.resurf3d.com/rhinoresurf04/RhinoResurf.exe ; If your Rhino is 64-bit, install this RhinoResurf 64-bit: http://www.resurf3d.com/rhinoresurf05/RhinoResurf_x64.exe